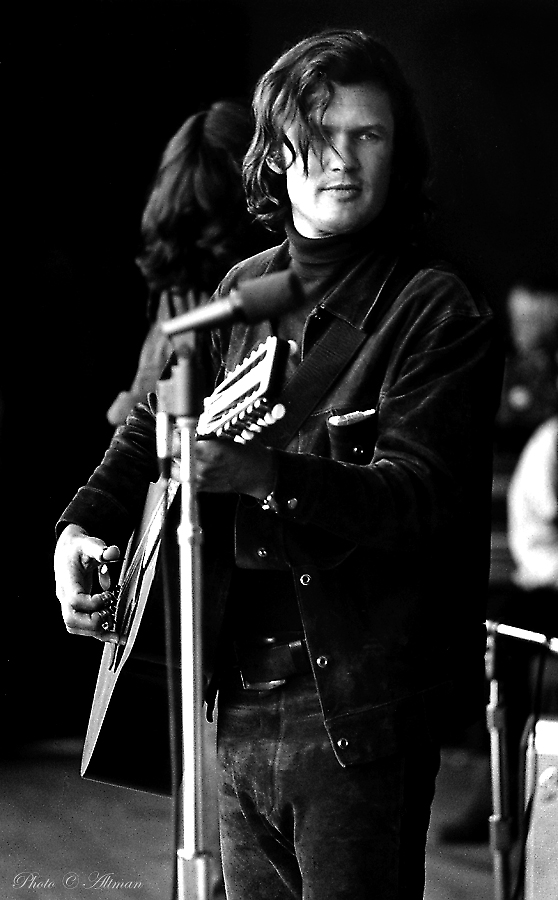 Kristoffer "Kris" Kristofferson
(born
June 22, 1936
) is an
American
writer
,
singer
-
songwriter
,
actor
, and
musician
. He is best known for hits such as "
Me and Bobby McGee
", "
Sunday Mornin' Comin' Down
", and "
Help Me Make It Through the Night
". Kristofferson is the sole writer of most of his songs, but he has collaborated with various other figures of the
Nashville
scene such as
Shel Silverstein
and Fred Rumfelt.
Kristofferson was born in Brownsville, Texas, to parents Mary Ann (née Ashbrook) and Lars Henry Kristofferson, a U.S. Air Force major general.[1] When Kris was a child, his father pushed his son toward a military career (Kristofferson's paternal grandfather was an officer in the Swedish Army).[2] Like most military brats, he moved around frequently as a youth, finally settling down in San Mateo, California, where he graduated from San Mateo High School. An aspiring writer, Kristofferson enrolled in Pomona College in 1954. He experienced his first dose of fame when he appeared in Sports Illustrated's "Faces In The Crowd" for his achievements in collegiate rugby union, football, and track and field. He and fellow classmates revived the Claremont Colleges Rugby Club in 1958, which has remained a Southern California rugby dynasty. Kristofferson became a member of Phi Beta Kappa at Pomona College, graduating in 1958 with a BA, summa cum laude in Literature.
Kristofferson earned a Rhodes Scholarship to Oxford University, where his college was Merton. While at Oxford he was awarded his blue for boxing and began writing songs. With the help of his manager, Larry Parnes, he recorded for Top Rank Records under the name Kris Carson. This early phase of his music career was unsuccessful.[3]
In 1960, Kristofferson graduated with a BPhil in English literature and married an old girlfriend, Fran Beer. Kristofferson ultimately joined the U.S. Army and achieved the rank of captain. He became a helicopter pilot after receiving flight training at Fort Rucker, Alabama. He also completed Ranger School. During the early 1960s, he was deployed to West Germany as a member of the 8th Infantry Division.[4] It was during this time that he resumed his music career and formed a band. In 1965, when his tour of duty ended, Kristofferson was offered a position as a professor of English Literature at West Point. Instead, he decided to leave the Army and pursue songwriting professionally. Kristofferson sent some of his compositions to a friend's relative, Marijohn Wilkin, a successful Nashville, Tennessee songwriter.
After being honorably discharged from the Army in 1965, Kristofferson moved to Nashville. He worked at a variety of odd jobs while struggling for success in music, burdened with medical expenses resulting from his son's defective esophagus. He and his wife soon divorced.
He got a job sweeping floors at Columbia Studios in Nashville. There he met Johnny Cash, who initially accepted some of Kristofferson's songs but chose not to use them. During Kristofferson's janitorial stint for Columbia, Bob Dylan recorded his landmark 1966 album Blonde on Blonde at the studio. Though he had the opportunity to watch some of Dylan's recording sessions, Kristofferson never met Dylan out of fear that he would be fired for approaching him.
He also worked as a commercial helicopter pilot at that time for a south Louisiana firm called Petroleum Helicopters International (PHI), based in Lafayette, Louisiana. Kristofferson recalled of his days as a pilot, "That was about the last three years before I started performing, before people started cutting my songs... I would work a week down here [in south Louisiana] for PHI, sitting on an oil platform and flying helicopters. Then I'd go back to Nashville at the end of the week and spend a week up there trying to pitch the songs, then come back down and write songs for another week... I can remember 'Help Me Make It Through The Night' I wrote sitting on top of an oil platform. I wrote 'Bobby Mcgee' down here, and a lot of them [in south Louisiana]."[5]
In 1966, Dave Dudley released a successful Kristofferson single, "Viet Nam Blues". In 1967, Kristofferson signed to Epic Records and released a single, "Golden Idol"/"Killing Time", but the song was not successful. Within the next few years, more Kristofferson originals hit the charts, performed by Roy Drusky ("Jody and the Kid"), Billy Walker & the Tennessee Walkers ("From the Bottle to the Bottom"), Ray Stevens ("Sunday Mornin' Comin' Down"), Jerry Lee Lewis ("Once More with Feeling") Faron Young ("Your Time's Comin'") and Roger Miller ("Me and Bobby McGee", "Best of all Possible Worlds", "Darby's Castle"). Further, he achieved some success as a performer himself, resulting from Johnny Cash's introduction of Kristofferson at the Newport Folk Festival.
In a distinctly notable fashion, Kristofferson grabbed Cash's attention when he unexpectedly landed his helicopter in Cash's yard and gave him some tapes including "Sunday Morning Coming Down".
Kristofferson signed to Monument Records as a recording artist. In addition to running that label, Fred Foster also served as manager of Combine Music, Kristofferson's songwriting label. His debut album for Monument in 1970 was Kristofferson, which included a few new songs as well as many of his previous hits. Sales were poor, although this debut album would become a success the following year when it was re-released under the title Me & Bobby McGee. Kristofferson's compositions were still in high demand. Ray Price ("For the Good Times"), Waylon Jennings ("The Taker"), Bobby Bare ("Come Sundown"), Johnny Cash ("Sunday Morning Coming Down") and Sammi Smith ("Help Me Make It Through the Night") all recorded successful versions of his songs in the early 1970s. "For the Good Times" (Ray Price) won 'Song of the Year" in 1970 from the Academy of Country Music, while "Sunday Morning Coming Down" (Johnny Cash) won the same award from the Academy's rival, the Country Music Association in the same year. This is the only time an individual received the same award from these two organizations in the same year for different songs.
In 1971, Janis Joplin, who dated Kristofferson until her death, had a number 1 hit with "Me and Bobby McGee" from her posthumous Pearl. When released, it stayed on the number one spot on the charts for weeks. More hits followed from others: Ray Price ("I Won't Mention It Again", "I'd Rather Be Sorry"), Joe Simon ("Help Me Make It Through the Night"), Bobby Bare ("Please Don't Tell Me How the Story Ends"), O.C. Smith ("Help Me Make It Through the Night") Jerry Lee Lewis ("Me and Bobby McGee"), Patti Page ("I'd Rather Be Sorry") and Peggy Little ("I've Got to Have You"). Kristofferson released his second album, The Silver Tongued Devil and I in 1971; the album was a success and established Kristofferson's career as a recording artist in his own right. Soon after, Kristofferson made his acting debut in The Last Movie (directed by Dennis Hopper) and appeared at the Isle of Wight Festival. In 1972, he acted in Cisco Pike and released his third album, Border Lord; the album was all-new material and sales were sluggish. He also swept the Grammies that year with numerous songs nominated, winning country song of the year for "Help Me Make It Through the Night." Kristofferson's 1972 fourth album, Jesus Was a Capricorn initially had slow sales, but the third single, "Why Me", was a success and significantly increased album sales.
Kristofferson has been married three times and has eight children. In 1960, Kristofferson married his high school sweetheart Frances (Fran) Beer. They had two children, a daughter Tracy Kristofferson and a son Kris Kristofferson before divorcing in 1969. After Kristofferson dated Janis Joplin until her death and then dated Barbra Streisand. In 1973, he married singer Rita Coolidge and together they had one child, Casey Kristofferson. They divorced in 1980. In 1983 he married Lisa Meyers and together they have five children - son Jesse Turner (born October 7, 1983), son Jody Ray (born May 21, 1985), Johnny Cash Kristofferson, daughter Kelly Marie (born November 1, 1990) and son Blake Cameron (born July 27, 1994).
He has said that he would like the first three lines of Leonard Cohen's "Bird on the Wire" on his tombstone:
Like a bird on the wire
Like a drunk in a midnight choir
I have tried in my way to be free.
On February 29, 2008 Kristofferson officially endorsed Barack Obama for President.[6] A member of Veterans for Peace, Kristofferson took several trips to Nicaragua with peace activist S. Brian Willson during the 1980s. He also opposes the Iraq War and has been calling for an end to it as demonstrated in his song "In The News".[7] In 2009, he described his political views on The Colbert Report as "left of liberal".
via Wikipedia