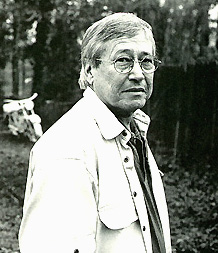 Barry Hannah (born April 23, 1942) is an American novelist and short story writer.
Hannah was born in Meridian, Mississippi and raised in Clinton Mississippi. He earned a Bachelor of Arts degree from Mississippi College in 1964. He spent the next three years at the University of Arkansas, where he earned a Master of Arts in 1966 and a Master of Fine Arts in 1967.
Hannah's first novel, the grotesque coming-of-age tale Geronimo Rex (1972), won the William Faulkner Prize and was nominated for the National Book Award. Nightwatchmen (1973), his second novel, was a difficult book, and it is his only work never reissued in paperback. Hannah returned to form, however, with the short-story collection Airships (1978), which today is considered a classic. Most of the stories in the volume were first published in Esquire magazine by its fiction editor at the time, Gordon Lish. The short novel Ray (1980) was a critical success and a minor breakthrough for Hannah, and it is still considered one of his best novels. After the grotesque Western pastiche Never Die (1991), Hannah stuck to the short story form for the rest of the decade, first with the immense Bats Out of Hell (1993)--which featured twenty-three stories over close to four hundred pages, making it Hannah's longest book--and then with High Lonesome (1996), which was nominated for the Pulitzer Prize. After a near-fatal bout with non-Hodgkin lymphoma, Hannah returned in 2001 with Yonder Stands Your Orphan (the title is taken from Bob Dylan's song "It's All Over Now, Baby Blue"), his longest novel since Geronimo Rex. In this novel, Hannah returns to a small community north of Vicksburg and to some of the characters featured in stories from Airships and Bats Out of Hell.
Hannah has curently finished a new novel, which has undergone several title changes. In a 2003 interview with the Austin Chronicle, Hannah declared the novel to be called Last Days. A 2005 interview with Hannah in The Paris Review featured a manuscript page from the, then titled Long, Last, Happy. However, a 2009 issue of the literary journal Gulf Coast features an excerpt from the novel, now titled Sick Soldier at Your Door. The same excerpt is printed in the June 2009 issue of Harper's Magazine. No date has been set for the publication of that novel.
Hannah has taught creative writing at the Iowa Writers' Workshop, Clemson University, Middlebury College, the University of Alabama, Texas State University, and the University of Memphis. As of 2009 he resides in Oxford, Mississippi, where he is the director of the MFA program in creative writing for prose fiction at the University of Mississippi. Hannah is a frequent visiting writer at the summer creative writing seminars at Sewanee and Bennington.
via Wikipedia